Description
DGRLT64 DMX512 Control Servo Linear Actuator Thechincal Data
Product Series
DGRLT64
Screw lead / pitch (mm)
5
10
Max. Power of Motor (W)
750
Max. Rated Thrust (N)
1500
Max. Speed (mm/s)
250
500
Rated Driving Torque (N.m)
1.3
2.5
Max. Ball Screw Diameter (mm)
16
16
Rated Dynamic Load of Ball Screw (kgf)
1380
1103
Max. stroke (mm)
1200
Axial Backlash (mm)
0.02-0.04
Lead Error Every 300mm (mm)
0.023
Repeatability Accuracy (mm)
0.02
Note:
If you need to know the ball screw life, please contact customer service for detailed consultation;
The max. thrust and the max. speed can not be reached at the same time. Different motor and gear boxes will be used.
If the Max. stroke exceeds 500mm, it is recommended to add a guiding device;
Note: If you require beyond the specification chart above, please contact us directly, we can able to customize according to customers' requirements on the load (up to 20 ton), speed(up to 2000mm/s) and stroke (up to 2800mm).
DGRLT64 DMX512 Control Electric Servo Linear Actuator Motor Selection List
| | |
| --- | --- |
| Product Series | DGRLT64 |
| Flange Size of Optional Servo Motor Series (mm) | 60/ 80 |
| Flange Size of Optional Stepper Motor Series (mm) | 57/ 60 |
| Flange Size of Optional Gear Box Series (mm) | 60/ 80 |
Note:
1.DGR electric cylinder servo motor brands include Panasonic, Mitsubishi, Yaskawa, Delta, Syntron, Motec, and Tuoda;
DGR electric cylinder stepper motor brands include Japan Samsr, Leadshine, MOONS', etc;
The DGR electric cylinder gear box brands include Nidec-Shimpo, Taiwan KunTai, Taiwan Li Ming, and Shanghai Jinmo;
The cylinder can be equiped with a motor or gear box, and the motor brands and gear box brands can be designated by the customers, please kindly contact our sales for more detailed information;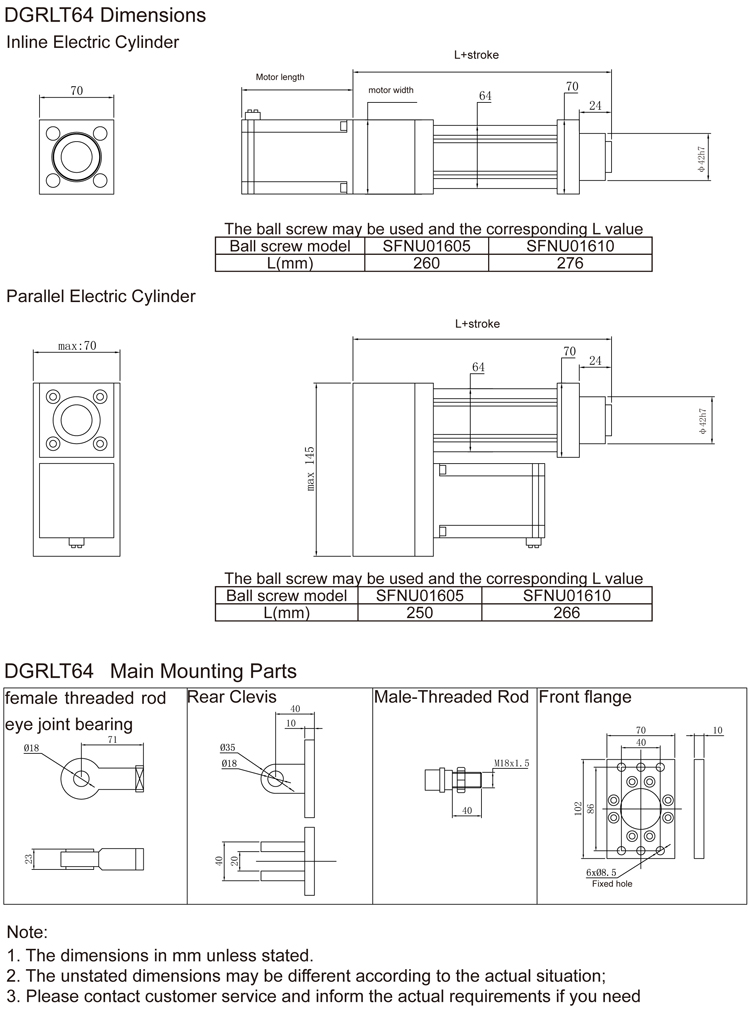 DGRLT64 Electric Servo Linear Actuator is compatible with DMX512 protocol, used for controlling the movement of LED screens for 3D robotic billboard application, the speed and stroke can be adjusted via a DMX512 control console, it can work non-stop 24 hour 100% duty cycle.